Social Action
Strengthening Our Future
"Strengthening Our Future" embodies mission-critical programs that reflect Beta Sigma Boulé's deep passion, strong commitment, and high regard for achievement among our youth.
Our focus is on development of young black males through mentoring, educational, and networking opportunities. Our goal is to raise their academic expectations and to help them to excel in the classroom and beyond.
Beta Sigma Boulé has received coveted grants and special recognition from the Grand Boulé for outstanding engagement in several social action programs and partnerships that benefit black youth, families, and communities. Included are the following partnerships:
Naismith Memorial Basketbal Hall of Fame – The global stage for the game of basketball and Beta Sigma Boulé's strategic partner and co-sponsor of the Education & Leadership Luncheon, an Enshrinement Weekend activity that celebrates the achievements of high school students, primarily African American Males, and exposes them to inspirational messages from Basketball Hall of Famers.
A Better Chance Amherst – A national residential high school program for the young scholars of color who come from educational underserved school districts to matriculate at Amherst Regional High School and prepare for college and future leadership roles in the broader community.
Martin Luther King Jr. Family Services – Springfield's premier family resource center and sponsor of an annual HBCU college tour and local or regional black college fairs.
African American History and Culture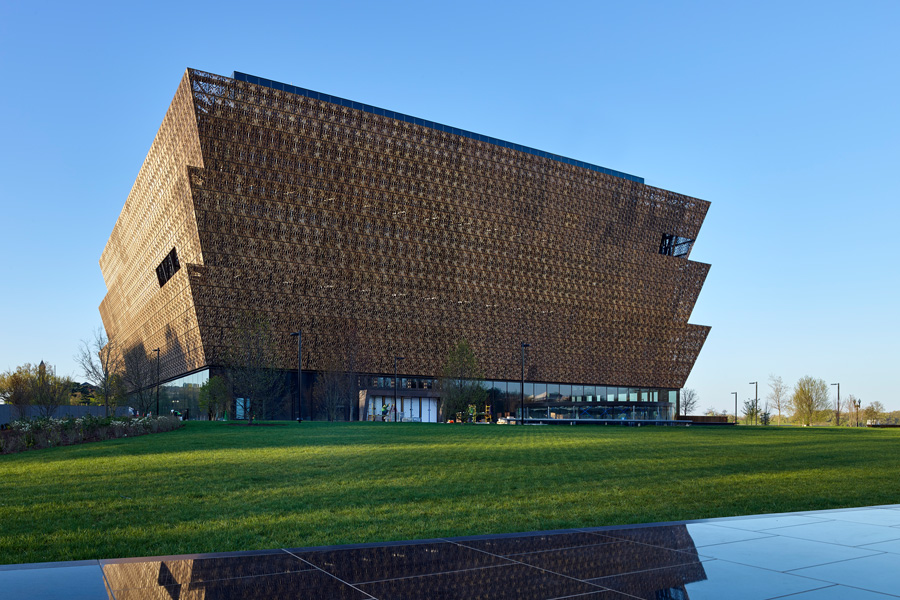 In 2014, when the National Museum of African American History and Culture (NMAAHC) was still under construction and in the beginning stages of its fundraising campaign, Beta Sigma Boulé was the first African American male organization to make a contribution to the museum. Beta Sigma Boulé, along with Epsilom Boulé of Washington D.C., seized leadership and garnered support throughout our organization nationally to support the museum's fundraising efforts. This led to a $1 million donation by Sigma Pi Phi Fraternity, which designated the Boulé as a Founding Donor of the NMAAHC – the first, and only, national museum dedicated exclusively to the research, documentation, and presentation of African American life, history, and culture. The NMAAHC, the Smithsonian's 19th museum and the world's largest museum complex, opened in September, 2016 in Washington, D.C.
Right to Vote Activities
Beta Sigma Boulé's social action agenda also focuses on voter registration, voter education, and Get-Out-the-Vote (GOTV) activities. During the historic 2020 presidential campaign season, Beta Sigma collaborated with the four Connecticut boulés (Alpha Psi, Beta Iota, Beta Tau, and Delta Nu) to develop and activate a targeted, multi-media, GOTV campaign that included out-of-home advertising, digital marketing, radio commercials, and printed educational flyers.

2020 outdoor billboard advertising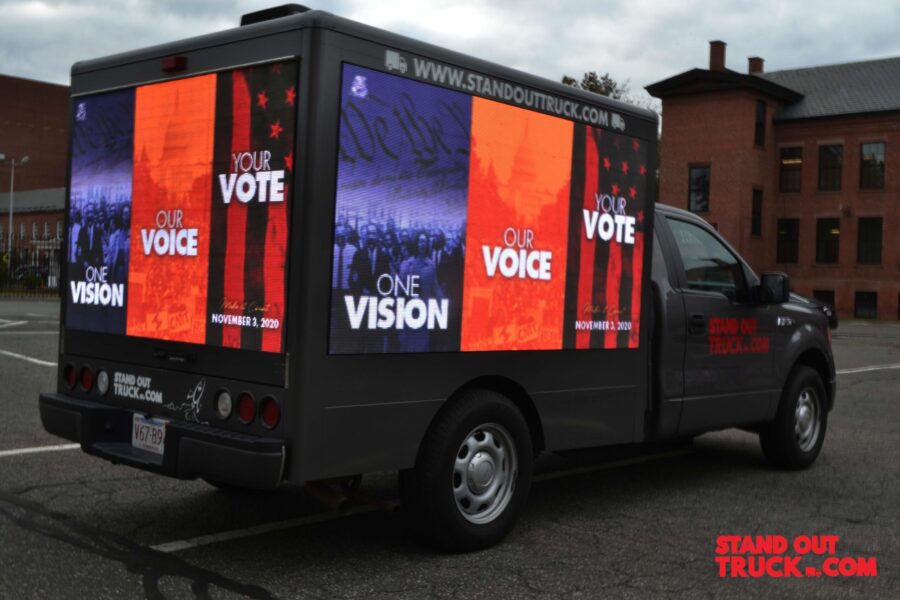 2020 truck graphics and mobile advertising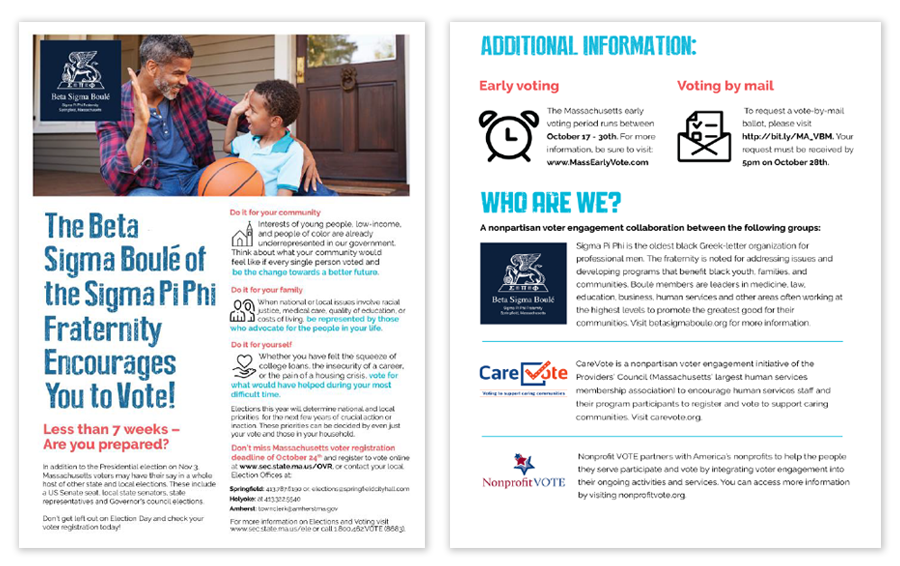 2020 voter educational flyer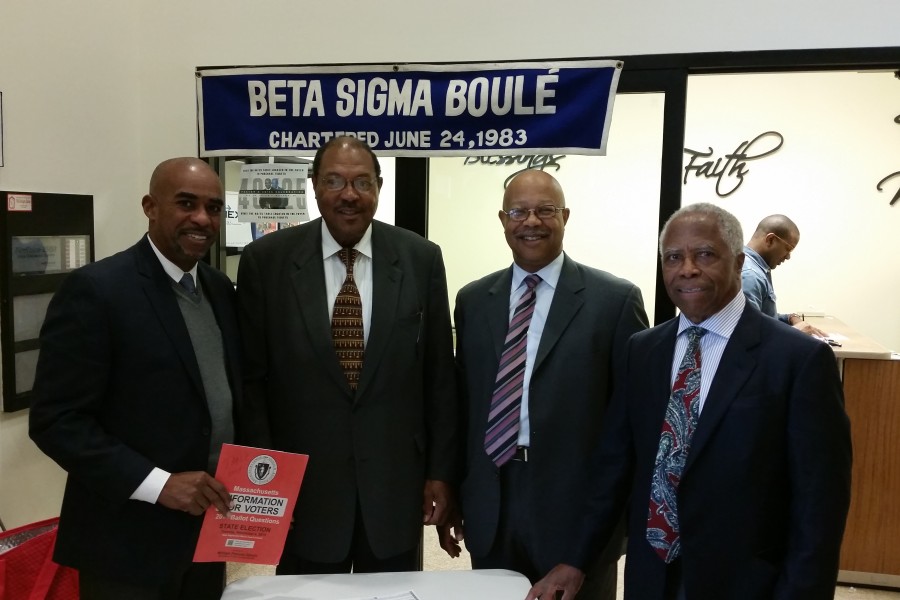 Archons Michael Weekes, Jesse Lanier, Frank Robinson, and Bill Harris conduct voter registration drive at St. John's Congregational Church.
Scholarship Programs
Boulé Scholars Program
Education is Sigma Pi Phi Fraternity's top social action priority. The Boulé Scholars Program aims to raise educational expectations and performance of black students by cultivating and celebrating their academic excellence from elementary to college and graduate and professional school levels.
The program provides four-year, $10,000 scholarships to high-achieving black males in their final year of high school. Applicants for this elite program must be nominated by their local member boule and are evaluated in the areas of school leadership.
Howard L. Edmonds Academic Scholarships
Each year, Beta Sigma Boulé awards four-year, academic scholarships to local high school seniors and commits to ongoing mentoring relationships with the recipients throughout their college years. Since the scholars' program began in 2010, Beta Sigma Boulé has awarded $110,000 in scholarships and book awards. The scholarship is named in honor of the late Howard L. Edmonds (1914-2010) who was a prominent educator in the Springfield public school system and a charter member of Beta Sigma Boulé.
Howard L. Edmonds Scholarship Recipients
(Move cursor over photo for additional information.)
W.E.B. Du Bois Public Policy Series
One of the key goals of Sigma Pi Phi Fraternity, Inc. is to influence public policy issues that are related to the social, economic, and educational advancement of the African American Community. To stimulate dialogue on public policy issues., Beta Sigma Boulé established the W.E.B. Du Bois Public Policy Series as a platform for community leaders and concerned citizens to discuss issues such as education, health, justice, financial literacy, economic development, and political action. The event is named in honor of W.E.B. Du Bois, who was a member of the Boulé and one of the most prominent social activists for civil rights and racial equality. Each year, the W.E.B. Du Bois Public Policy Series features an invited speaker who is an expert on a particular public policy and shares information that is useful to leaders in the Springfield community.

Past Keynote Speakers
(Move cursor over photo for additional information.)
William A. Darity Health Series
William A. Darity, Sr. Black Men's Health Series
Beta Sigma's William A. Darity, Sr. Black Men's Health Series is an integral part of the W.E.B. Du Bois Public Policy Series. The health series is named in honor of the late Dr. William A. Darity, Sr., founding dean for the School of Public Health and Health Sciences at the University of Massachusetts Amherst. Special programs within this health series commemorate Dr. Darity's life-long work toward eliminating health care and human service disparities and creating equitable opportunities for all people, particularly those in black and brown communities, to live healthy lives. Dr. Darity was also a long-time member of Beta Sigma Boulé.
In partnership with Baystate Health the Public Health Institute of Western Massachusetts (PHIWM), Beta Sigma Boulé held its first William A. Darity, Sr. Black Men's Health Forum on October 22, 2022. The forum was established to address key health issues that disproportionately affect black men including prostate cancer, heart disease, mental health, and diabetes. The goals of the forum and future programs are to share insights and information to stimulate greater community dialogue and actively coalesce resources to create community health partnerships, heighten awareness of health disparities, prioritize investments that promote the collective health of black men, and improve health outcomes.